Transit City 4 & 5 by CentreCourt
The 55-storey Towers 1, 2 and 3 of Transit City were received with an overwhelmingly positive response. Now, Towers 4 and 5 (TC4 and TC5) join the 100-acre master-planned community which encompasses nine acres of park and cultural space as well as KPMG and PwC offices. Located at the northeast corner of Highway 7 and Highway 400, Transit City 4 and 5 will be right at the centre of the Vaughan Metropolitan Centre – Vaughan's newest downtown core.
Transforming Vaughan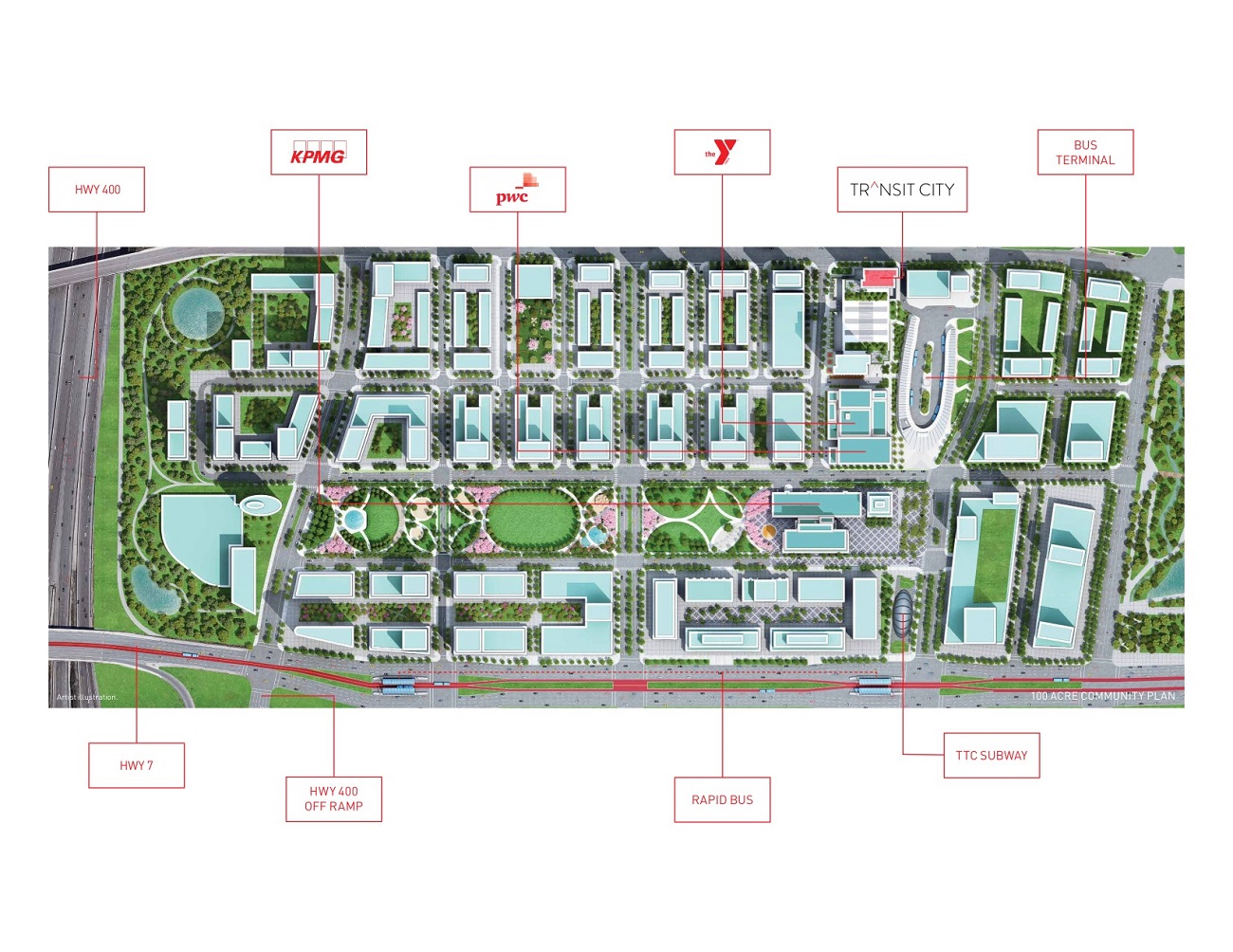 Lying east of Tower 3, TC4 and TC5 overlook the interior park and courtyard designed by Claude Cormier at 50 and 45 storeys respectively. More importantly, residents will also enjoy the same convenient access to the TTC subway, YRT transit, new City of Vaughan library, and YMCA facilities as the previous phases. The sixth tower is proposed to be a purpose-built rental apartment at 35 storeys. The three new towers are expected to total an approximate 1600 units.
The launch of TC 4 and TC5 is expected this spring of 2019 while construction of Towers 1, 2, and 3 are well underway.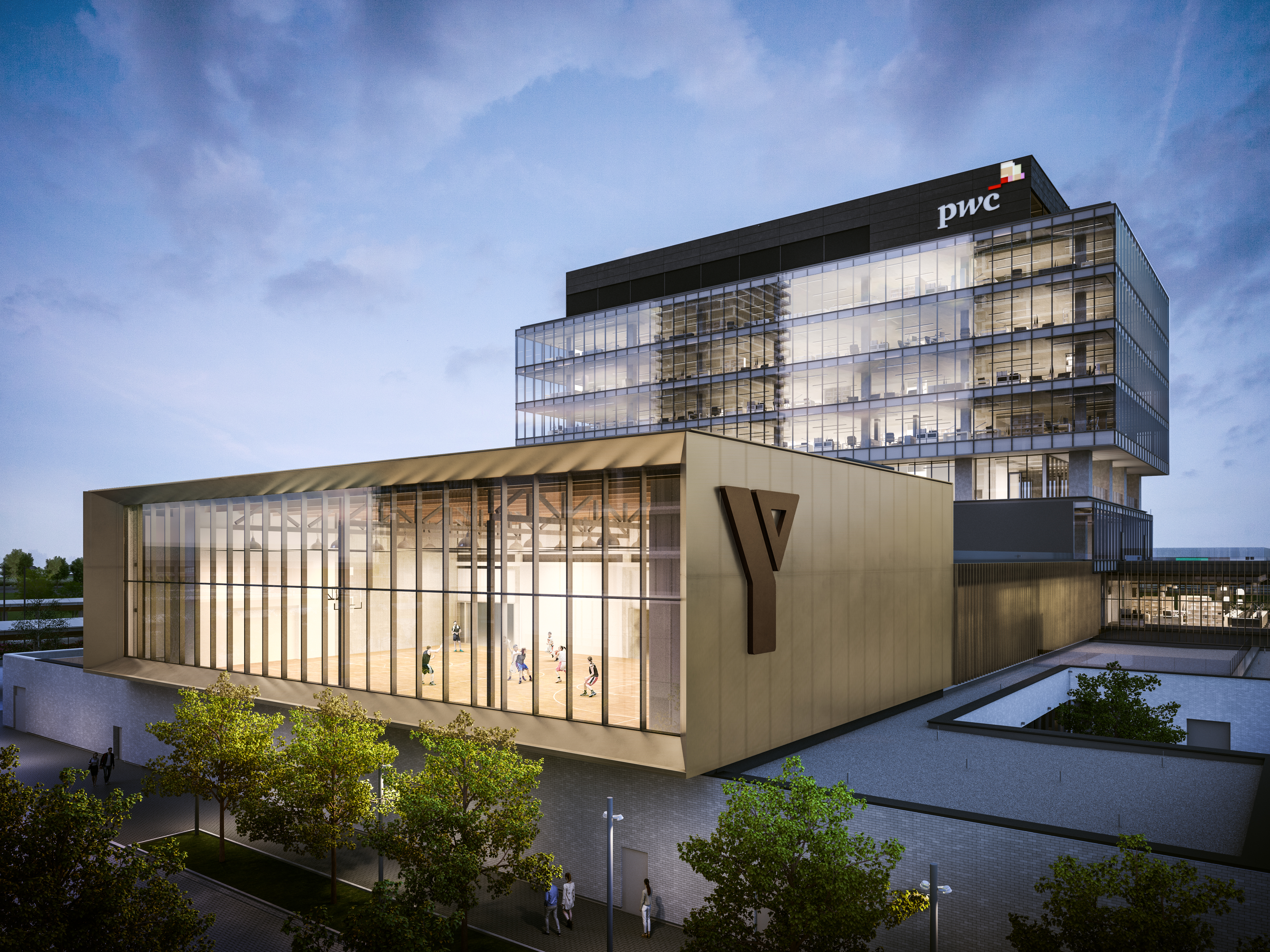 Project Summary
Project name: Transit City 4 and 5 (TC4 and TC5)
Location: Northeast corner of Highway 7 and Highway 400
Developer: CentreCourt Developments
Architect: Diamond Schmitt Architects
Interior designer: Figure3 Interior Design
Landscape architect: –
Storeys: 50 and 45 storeys respectively
Total no. of suites: approx. 1600 (including rental units of the sixth tower)
Unit breakdown: –
Suite size: –
Occupancy: TBA
Building and Vaughan Metropolitan Centre Amenities
PROJECT HIGHLIGHTS
ZERO MINUTES FROM THE SUBWAY – unparalleled access to the GTA's newest TTC's stop, Transit City is steps away from the subway entrance and far closer than any other residential building in the area. In addition to the subway, Transit City is located adjacent to the York regional transit station and offers local and rapid transit services in all nine York Region municipalities.
5-STAR LOBBY EXPERIENCE – Transit City will feature a stunning BUCA-branded restaurant and BAR BUCA operated by the renowned hospitality provider King Street Food Company. From morning until night, residents will be able to experience BUCA in their lobby; a latte and pastry in the morning, a quick bite during the day or a drink at night are all on the menu for residents.
100,000 SQUARE FEET OF STATE OF THE ART AMENITIES – YMCA is breaking ground immediately next door to Transit City and the subway, and will provide residents with access to a new 100,000 square foot flagship facility featuring child care, fitness and aquatic facilities plus a 20,000 square foot City of Vaughan library and studio space. Transit City has partnered with the YMCA to offer each suite a membership that will allow them to have full access to the fitness and lifestyle amenities at their doorstep.
DEVELOPING THE TALLEST RESIDENTIAL BUILDING IN THE YORK REGION – Transit City will rise 55-stories and contain 553 units
AT THE HEART OF THE GREATER TORONTO AREA AND 43 MINUTES TO EVERYTHING – Transit City is for the people who want to be central to life in the GTA, with the subway, regional transit and major highways right at your doorstep and the ability to get to Markham, Brampton or Newmarket in no time. You can get down to the Air Canada Centre for the big game or Pearson Airport to catch your next flight, and Yorkdale, York University and Union are all easily within reach. Transit City and the surrounding area represents one of the largest transit investments in all of Ontario.
VISIONARY ARCHITECTURE FOR A WORLD CLASS NEIGHBOURHOOD – the design was developed by a world-renowned team of designers lead by Don Schmitt and Claude Cormier, who have already set a high watermark for design and quality in the Vaughan Metropolitan Centre through the KPMG office tower development. Both designers have worked on some of the most noteworthy buildings and spaces in the GTA and will be bringing their vision and creativity towards the design of Transit City and its immediately adjacent open spaces.
ICONIC DESTINATION – Transit City will contain the first BUCA-branded restaurant concept outside of downtown Toronto, and having a BAR BUCA and BUCA-branded restaurant operate in the lobby will make Transit City an iconic landmark in downtown Vaughan while providing tremendous value to owners and residents.
MOST CENTRAL LOCATION WITHIN THE BOOMING VMC – development of Transit City will take place in the best location in the VMC, immediately adjacent to the subway station and regional transit hub. Residents will be situated in the "centre-ice" location of a world-class destination neighborhood.
Developer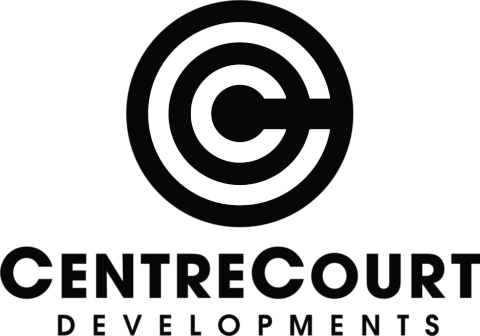 CentreCourt Developments have always strived to create industry-leading developments by working with the best-in-class planners, architects, design firms, and construction trades. Not only is important for them to assess attainable land within the GTA, but to also determine the future ability of what it may provide the residence. CentreCourt development's main goals in building high rise condominiums is to build such structures in close proximity to major amenities, transit and employment areas – 3 major attributes that compliment a successful city. Their outstanding portfolio includes Peter Street Condos, Karma Condos, INDX Condos, 411 Church Street Condos, Zen King West, and, of course, Transit City Condos in Vaughan. Their upcoming projects are Transit City 4 & 5, Prime Condos, 39 East Liberty, and Yonge Wellesley.
Partnership with SmartCentres
As one of Canada's largest real estate investment trusts, SmartCentres is well known for their ownership and management of strong retail centres. Their joint venture with CentreCourt to develop two additional Transit City condo towers in SmartCentres Place at the Vaughan Metropolitan Centre, will enable investors and end-users to benefit from all the amenities of SmartCentres Place.
Transit Access
The YRT/VIVA SmartCentres Place Bus Terminal is right outside of TC4 and TC5 is also only a two-minute walk through an aboveground park or an underground path to the new terminal TTC VMC subway station. The Hwy 407 Bus Terminal is the largest GO Bus terminal and is only a 5-minute drive from TC4 and TC5. This makes travel from Transit City to York University, Pearson Airport, downtown Toronto, and anywhere you need visit that much easier. The convenience of Hwy 400, Hwy 7, Hwy 407 ETR can't be undermined either – connecting you to all your destinations. Transit City is aptly named for being located at the most ideal transit hub in the GTA.
Look forward open and airy suites, expansive views, and abundance of greenery while still having everything central to life at Transit City.