M3 – M CITY CONDOS PHASE 3 BY ROGERS DEVELOPMENTS
M City is launching its 81-storey third-phase tower, M3, of the master-planned community in Mississauga this coming Fall, 2018. This 81-storey tower will be the tallest in Mississauga, and one of the top 5 tallest of all of Canada, housing approximately 900 units with unit sizes ranging between 390 and 941 square feet. M3 will truly be an iconic landmark of Mississauga with its sawtooth balconies punctuated by a black and white zig-zag configuration to create a wonderfully dramatic peak.
The M City project has already garnered widespread attention in the press and public for its forthcoming, tremendous transformation of Mississauga and is highly anticipated as the previous two phases M City sold out in record time. This condo community located at the southwest corner of Burnhamthorpe and Confederation Parkway is reflective of the city's potential and rapid growth as an urban city.
Big City Realty was one of the top 3 producers of phases 1 and 2 at M City. Register today to receive priority access to floor plans, pricing and unit selections for M3!
THE M CITY VISION
This city-within-a-city is ambitiously set to create a dynamic public realm with a total of 9 residential towers, townhouses, green spaces, and outdoor living. As a master-planned community, M City spans 4.3 million sq. ft. of land and features a range of retail shops and cafes at street level, in addition to over 2 acres of new parkland – the perfect place for outdoor activities. M City Phase 3 will be joining the earlier two serpentine towers which will be Mississauga's tallest buildings when complete in 2021.
THE METROLINX HURONTARIO LRT
The Hurontario LRT will be 20-kilometres of lines, running from north to south, and right next to M City. Expected completion is in 2022 and will provide much-needed relief to the Hurontario corridor. It will have 22 stops and its own dedicated right-of-way – so no pesky traffic to deal with. Riders will be connected to the Milton and Lakeshore West GO lines, along with local transit links.
TRANSIT OPTIONS
Local transit such as MiWay, Brampton Transit, and Züm will take you to your destinations comfortably. Both Square One GO Bus Terminal and GO Cooksville Station are nearby. Hurontario connects residents to Highway 403 and the QEW making your travels around the GTA simple. Moreover, an abundance of bike and pedestrian paths lets the community get from one place to another while getting some exercise too!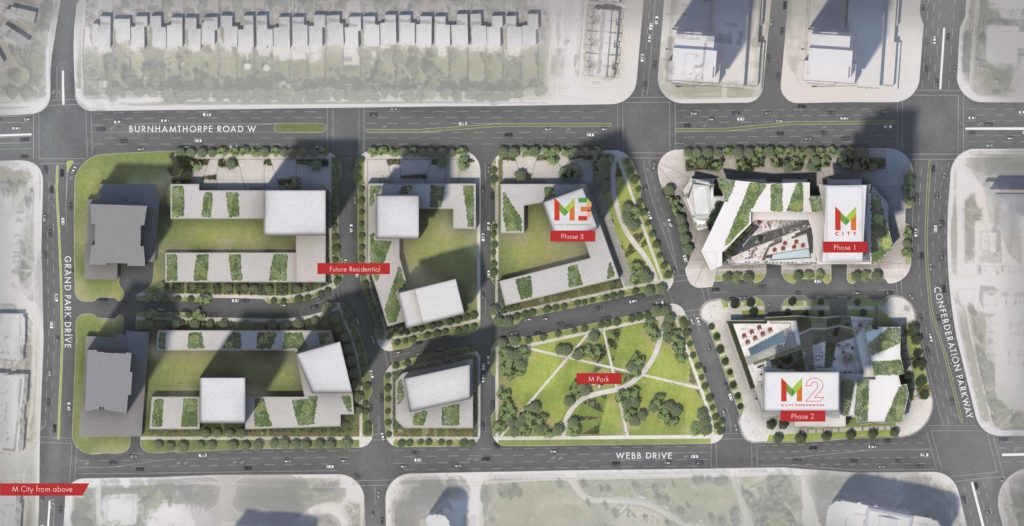 WALKING DISTANCE TO EVERYWHERE
Mississauga's top shops, dining, schools, parks, and entertainment are all just a few steps from M City. As an M City resident, you can grab a quick bite as soon as you step outside with Alioli, Kinton Ramen, Pizza Nova, and Smoke's Poutine just a 1-minute walk away. Stroll a little further west and you'll find Mississauga's Celebration Square, Civic Centre, Central Library and the Art Gallery of Mississauga. There are many events and celebrations hosted in this area and you'll even find fresh, local produce and baked goods at the farmer's market as well as movie nights in the summer!
Striking the perfect balance between work and play, there are also plenty of parks and entertaining places to hit up. Walk to John Bud Cleary Park in 5 minutes or the Japanese-inspired Kariya Park in 13 minutes. Enjoy the Mississauga Symphony Orchestra at the Living Arts Centre or experience all the arcades and games at Playdium Amusement Centre – there's something for everyone! Getting the kids to school won't be difficult as there are more than 4 schools within a 20-minute walk in addition to the Hazel McCallion Campus of Sheridan College next to Square One. Moreover, many supermarkets, restaurants, banks, and services are also within walking distance. Mississauga's future truly starts at M City.
AMENITIES
CORE Architects has ensured that M3 is as beautiful as the prismatic towers of the previous phases. The centrepiece amenity space is a multi-level glass pavilion overlooking the new 2-acre park. This space hosts the fitness centre and stunning salt-water infinity pool. Bathe in the sun at the outdoor sundeck and play at the splash pad. Cook and eat at the private dining areas equipped with barbeque stations, lounge seating, and outdoor TV plus fireplace, kids' playground and game area. The M3 amenity program continues indoor and includes a private dining room with prep kitchen, a luxe screening room to watch all your favourite movies and many many more.
SUITE FINISHES
The Cecconi Simone design team at M3 have focussed on two words when designing – beautiful and timeless. An aesthetic designed to never go out of style means using natural stone, rich wood, clear glass and crisp tones – all hallmarks of refined living. Every suite has an oversized balcony, smooth 9' ceilings, and stacked washer and dryer. Living is in the details and those details have carefully been curated. Kitchens include under-mount stainless steel sink and single lever chrome faucet with pull-down spray head while bathrooms feature contemporary low-flush toilets and frameless glass shower enclosure for separate showers.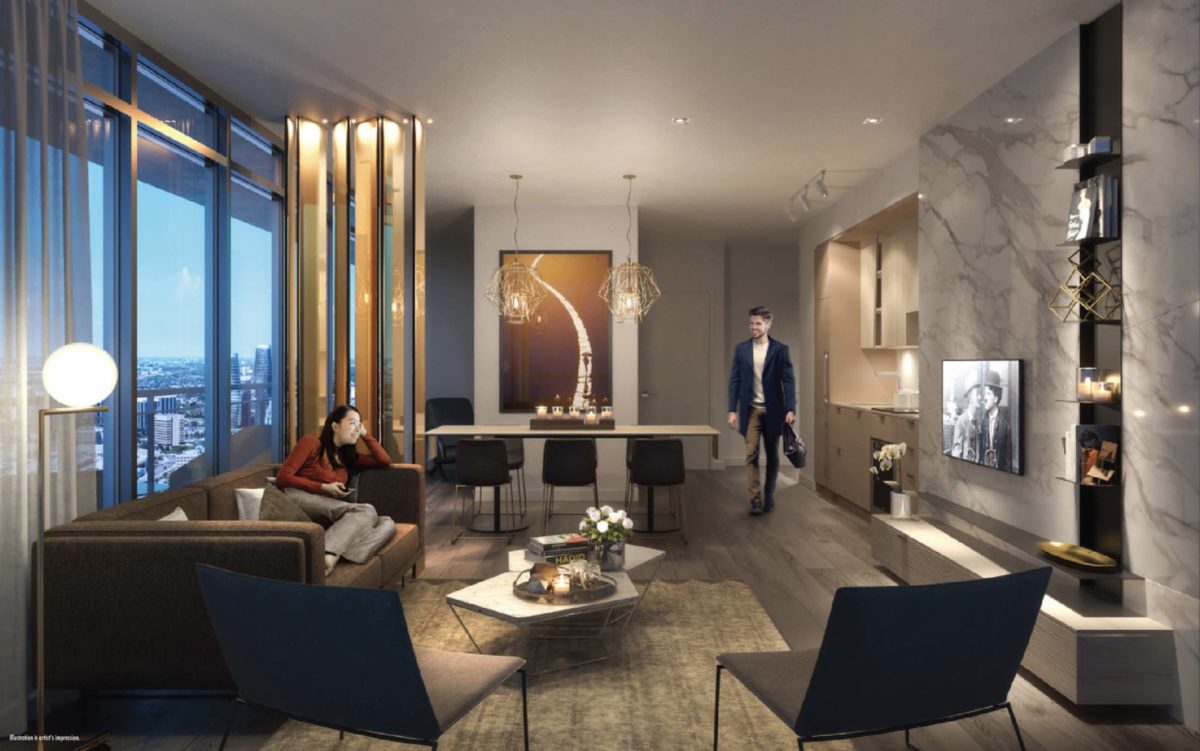 DEVELOPMENT TEAM
Rogers Real Estate Development Limited is the owner and developer of M City. The Rogers family private holding companies are the majority and controlling shareholders of Rogers Communications Inc., a leading diversified public Canadian communications company created by one of Canada's all-time business giants, Ted Rogers.
In the 1960's Ted Rogers purchased 43 hectares of farmland in Mississauga on which to locate transmitters for one of his first business ventures, radio station CHFI. When the transmitters were relocated, in the early 1990's, the site was retained by Ted and "we developed much of it and sold it to builders for new homes". The current site was re-zoned in 2002 to allow for a wider possibility of land uses including increased residential development.
Rogers Real Estate Development Limited has engaged the services of Urban Capital to manage the development of the first phase of M City. It is intended for the launch of M City to be viewed as a catalyst for downtown Mississauga and transform a long-held family asset into a new, lively community in the burgeoning downtown.
Urban Capital is one of Canada's leading developers with an award-winning reputation for architectural design, environmental sustainability, and a commitment to cities. Consistently named as a top 10 condo developer in Toronto, Urban Capital has over 5,500 condominium units developed or under development since 1996. With a reputation as urban regenerators, the company has brought its high standards and visionary approach to neighbourhood-conscious development all across Canada.