Aptly named after the developer, Cortel Group, CG Tower rises 60 storeys high and will be located at the northeast corner of Highway 7 and Jane Street. CG Tower joins the incredibly successful Nord Condos as the 5th and final phase of Expo City. It overlooks the beautiful, lush sights of the upcoming Edgeley Park and Pond and is distinguished by its unique staggered architecture and style.
Project Summary
Project Name: CG Tower
Location: Northeast corner Highway 7 and Jane St.
Storeys: 60
Location: TBD (Northeast corner of Highway 7 and Jane Street)
Developer: Cortel Group
Architect: Quadrangle Architects
Engineering: Entuitive
Total No. of units: 551
Suite size: 500-1200 sq. ft.
Occupancy: TBD (Anticipated for 2022)
Vaughan Metropolitan Centre
The Vaughan Metropolitan Centre is Vaughan's new downtown core. It is the vision of a new center that combines both modern residential and business spaces with urban lifestyle amenities. These include multi-use office towers, open green space, pedestrian shopping areas and restaurants, walking and cycling paths – all of which utilize the most technologically advanced sustainable buildings in the world.
The Vaughan Metropolitan Centre is an ideal location for companies that embrace innovation, creativity and the future economy. With an extension of 6 subway stations including a new regional transportation hub, commuters will have easy access around Toronto.
With nearly 179 hectares (442 acres) of development opportunities, it includes:
1.5 million sq.ft. of workplace area, at minimum
750,000 sq.ft. of retail area
12,000 residential units to be home to 25,000 people
Density targets of 200 individuals and jobs per area unit by 2031
Employment targets of 11,500 jobs of that 5,000 are new workplace jobs
Transportation
It is entirely feasible to get to all your destinations from CG Tower without having to use a car. Take advantage of the newly built Vaughan Metropolitan Centre that is just a few minutes' walk away and get connected to TTC's Yonge subway line. From there, riders will reach Toronto's downtown core at Union Station – all within 45 minutes! CG Tower is also serviced by VIVA rapid transit and local YRT buses which enables residents to reach all parts of the GTA. When driving is necessary, Highway 7 allows for easy connection to Highway 400 and 407 ETR within minutes.
Take a Look Inside
Ground floor amenities are designed around convenience, and you'll find all the necessities here including a parcel room, lobby lounge, and postal hub. It's also the perfect place to bring your pet after a walk outdoors as they rinse and clean off at the pet spa. Move up to the fourth floor and you'll be delighted to find the majority of interior and exterior amenities here. This includes a wellness centre and yoga studio where you can get your daily workout in while admiring the green roof scenery and integrated outdoor pool. The BBQ lounge and children's play area are also fantastic spots to socialise and have a little fun! Of course, the amenities don't stop on this floor as the twentieth floor contains a patio and dining areas while the thirty-second floor has a boardroom, working space, lounge and patio too!
Features and Finishes
All suites have approximately 9' ceilings and individual climate control for centralized heating and air-conditioning. You won't have to worry about noisy neighbours because the laminate/engineered hardwood flooring has an acoustic under-pad layer for noise reduction. Your kitchen will have soft close drawers and premium stainless-steel appliances while your bathroom features a beautiful 5' deep soaker tub or shower tiled to the ceiling. Finally, nothing beats enjoying the fresh morning breeze or winding down in the evening with a drink at your balcony.
Dining, Shopping, and Entertainment at VMC
A downtown for tomorrow that is growing by the day, the Vaughan Metropolitan Centre has moved from its conception stage to its transformative development. The master-planned urban core spans nearly 442 acres of land which includes 1.5 million square feet of office space and 750,000 square feet of retail space. Accordingly, retailers such as IKEA, Lowe's, Walmart, Costco, Toys "R" Us, Best Buy, LCBO, Canadian Tire, and more have situated themselves within this impressive urban epicentre. This revolutionary development brings the best of dining, recreation and entertainment. Nearby Dave & Buster's and Cineplex Cinemas Vaughan are just some of the options to choose for a fun night out! Food options near CG Tower are endless with Panera Bread, Moxie's, Jack Astor's, Scaddabush Italian Kitchen & Bar, Symposium Café Restaurant & Lounge and more all close by.
Enjoy leisure walks, scenic views, and everything in between at Edgeley Pond and Park. The park is set to offer a splash pad, amphitheatre and skating rink too. You won't have better backyard anywhere else in Vaughan.
Get Educated at CG Tower
One of Canada's largest higher learning institutions, York University, is only a 7-minute subway ride from the VMC subway station. Plenty of elementary and high schools populate the neighbourhood such as Saint Catherine of Siena Catholic Elementary School, Glen Shields Public School, Julliard Public School, Maple Creek Public School, Father John Kelley Catholic Elementary School, and Maple High School.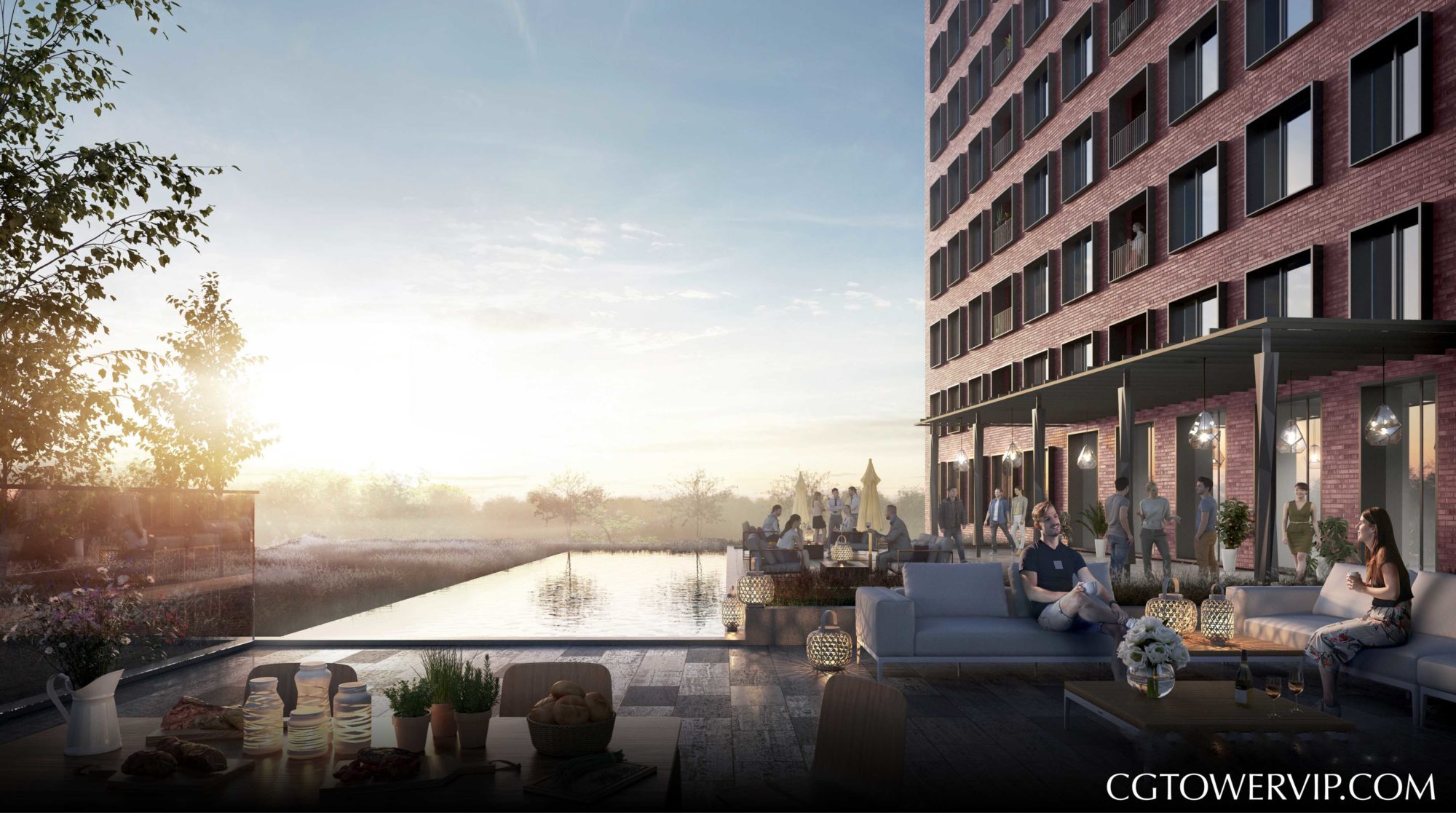 Cortel Group
The Cortel Group doesn't just build houses. They create what they call complete communities: outstanding, livable neighbourhoods with the recreation, green space, shopping, services and transportation we all need. Somewhere you and your family can easily and happily grow, now and into the future.
The Cortel Group is responsible to the environment. That's why they use the latest technology, along with sustainable materials and practices, to help them build innovative communities that respect nature. Partners like the Lake Simcoe Region Conservation Authority (LSRCA), Greenland Group of Companies and the University of Guelph help them leave as little a footprint as possible. Together, they work towards flood reduction and nutrient load elimination from uncontrolled headwater areas, creek rehabilitation and pond management. They're also involved in the preservation of natural heritage sites. While they look towards the future, it's important to them to respect the history.
According to the Cortel Group, a collection of buildings doesn't make a community – it's the people that help it grow that really matter. That's why they give to local charities and organizations that make it their job to give back. Their dedication to these beliefs has earned them a first-rate reputation in the industry, and among the people who live in their communities.